An effective motivation letter assists the admissions board in distinguishing exceptional students from the rest of the pack. A motivation letter for a Ph.D. program helps the admissions board get a better sense of you than they will from your application. Hence, the design of the letter, its tone, and the level of interest suggested in the letter serve a crucial role.  Your goal is to stand out from other applicants.
When applying for a Postdoc or a Ph.D. program, you need to write a research proposal and a motivation letter. A motivation letter is a must for Ph.D. candidates. The letter elaborates on why you are the perfect candidate. We are going to give you some tips and structures to use as you write the motivation letter for your Ph.D. application.
At the end of the post, we will provide you with a sample to help guide you for your own motivation letter.
How to Write a Brilliant Motivation Letter for a Ph.D. Application
A motivation letter is very similar to a personal statement and a cover letter. All three documents explain and highlight your suitability for Ph.D. study when you are applying for a Ph.D. program. Typically, a cover letter would be for a job.  A motivation letter serves to show why you want to be part of the Ph.D. program and why you are a good candidate for it.
A motivation letter serves a fundamental role in the application process. It enables the admission board to evaluate several Ph.D. applicants with identical academic credentials and choose the perfect candidate and understand their inspiration for applying.
For the admission committee, academic credentials alone aren't sufficient to showcase whether a learner will succeed in their doctorate program. A motivational letter enables them to understand an applicant's enthusiasm, commitment, and appropriateness to the program, which better allows them to assess your capabilities.
How Should I Structure My Motivation Letter for a PhD
An outstanding motivation letter for Ph.D. admission will entail:
A concise introduction disclosing which Ph.D. program you seek
Your professional experience and educational background
Major skills, experiences, and interests that you have and what makes you an outstanding candidate
What drove you to apply
Final remarks and thanks.
This is the most straightforward itemization of a complex document.
The above framework will ensure that you keep your motivation letter for the Ph.D. brief and pertinent to the position you are seeking. Bear in mind that the letter's purpose showcases your zeal and commitment and that you are well-suited for the program.
To simplify writing down a motivation letter for a Ph.D. application, we have defined what your introduction, main body, and closing segments should entail.
Starting Your Motivation Letter
Introduction: Open with a concise introduction where you openly declare your intention of applying for a given program. Picture it as explaining to a stranger what the document is all about.
Education: Describe what you studied and give the institution's name, your program of study, and the research that you have done.
You want to provide the admissions team with an understanding of your course of study to date.  Ideally, you can include any research, including publications that you have been a part of.  This will show that you have the experience, interest, and tenacity needed for a Ph.D. program and the research that goes with it.
Work Experience: Condense your professional experience. Bear in mind that you will probably be requested to present your motivational letter alongside your academic résumé. Hence, you are advised to keep the section brief to eradicate potential redundancy. Make sure you include any other important experiences, such as charity work, teaching roles, or non-academic ones that showcase your skills and eligibility to become a Ph.D. scholar.
Main Body
Key Skills: Highlight your major skills. Keep in mind that the admissions board considers your eligibility for the given program you are seeking; thus, state skills important to the Ph.D. program.
Motivation for Applying: Display your zeal for the program, the research involved, and why you want it.  Elaborate on your long-term ambitions. Begin by stating how that particular course caught your eyes and how your hunger to learn more about the topic has increased. Don't forget to state all the other things you have done that showcase your curiosity in your suggested study topic, for instance:
Are you an experienced researcher?
Have you taken part in any seminars or workshops?
Are you conversant with the research field?
Are there any aspects of the topic which you have taught yourself?
Why this research?
Lastly, paint a picture for the admission board to help them understand what convinced you to commit the next half a decade to the program.
How to Conclude a Motivation Letter
Many people struggle with how to end a motivation letter. Normally, people can account for their academic credentials and why they desire to become part of the program.
A good way to conclude is with a summary of why you are a great candidate and an offer to discuss your candidacy.  It's a good idea to provide your contact details so that a reader has them available.
Remember, getting admitted into a Ph.D. program is extremely competitive, and professors put a lot of work into mentoring their learners. Professors are naturally inclined to favor those who demonstrate the highest level of dedication. The conclusion must remind the admissions board that you are not only committed to the course, but the institution will greatly benefit from having you on board.
And lastly, thank the board for taking into account your application.
Motivation Letter for Ph.D. Admission Format
It is important to follow some basic guidelines when writing a motivation letter. The format mimics the report writing formats, which the professors are conversant with:
Use a sans serif font, for example, Arial or Times New Roman.  It should look professional.  Nothing fancy. 
Utilize a black standard font size. A 12-point font should work.  This makes it easy to read without being too large.
Adhere to professionalism all the way through and avoid the use of informal language or colloquialisms.
Write in the first person.
Address the motivation letter for Ph.D. to a named individual.  If in doubt, you can use the person in charge of admissions.
The Length of a Motivation Letter for Ph.D. Admission
For Ph.D. motivation letters, the standard recommendation is to keep them to one page. These are busy people and they won't spend a lot of time reading information. You want to make it as easy on them as possible. Keep your letter to one page, usually 3-5 paragraphs.
Tips for Writing a Motivation Letter for Ph.D. Admission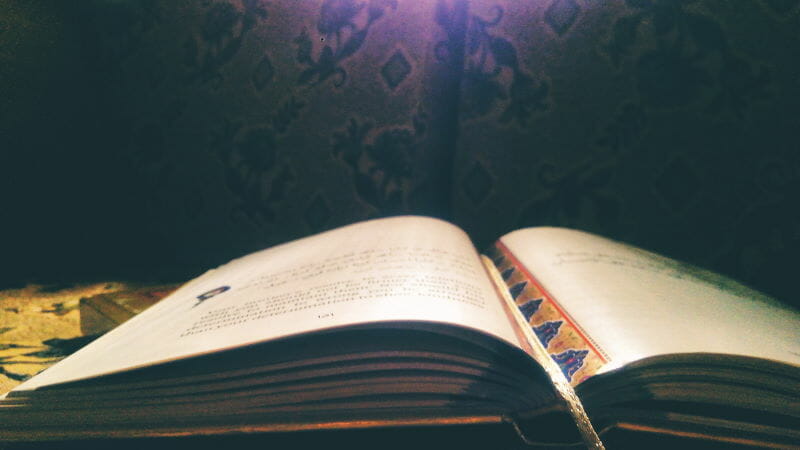 Below, we've stated the greatest tips for effectively writing a Ph.D. Motivation Letter. You want to keep these in mind as you write, review and edit your motivation letter:
Compose the Motivational Letter using a Professional Tone
It is crucial to add information in a motivation letter for a Ph.D. application professionally. It is in your best interest to write a letter with the right font, style, and grammar. Plus, doing this raises your odds of getting accepted into the program. Professionalism serves a crucial role in directing a great insight into your personality and lets you get acceptance.
Be Specific, Truthful, and Show Results
Where you can, the most powerful message is to show specific accomplishments, responsibilities and results.  This is true for research, academic achievements, or work or volunteer achievements.  Showing results demonstrates that you understand the impact of your effort and that the program can expect results from your work. 
This can be a powerful message.
Make sure that you can back up any accomplishments or experiences that you highlight.  It's great to show accomplishments but the last thing you want to do is to create doubt about your honesty or your application. 
If you lack prior experience in carrying out Ph.D. tasks, this is alright – you are not expected to understand everything before you kick start the program. Nonetheless, you have to prove in your motivation letter for a Ph.D. that you can carry out this work. To achieve this, we advise that you concentrate on the expertise you possess – for example, writing, presentation, data analysis, etc. Attempt to illustrate how you have deployed these abilities in the past to indicate that you are well-prepared for the Ph.D. program.
Show Personality
The motivation letter must remain professional. Hence, steer clear of jokes and sarcasm. At the same time, it can be much more interesting to read, and much more powerful to show who you are in your writing.
Discuss your Future Plans and Your Interests
Showing your passion and interest in the field of study can really make a difference in your admission.  Professors want someone who is interested in the work and the research.  You want to show how your background, goals, and passions fit into the work that you will be doing.
A great way to do this is to show why you are passionate about the research. Perhaps it means something to you personally or it's a way that you can make a difference. Maybe you are just fascinated by the topic. Passion goes a long way if it's genuine.
Check Your Spelling and Grammar
You are applying for an academic position.  You want a letter that doesn't have any grammatical or spelling mistakes.  Even minor mistakes can make an admissions officer question your candidacy. Of course, use a spell checker. For something this important, a more robust spelling and grammar checker like Grammarly can be invaluable.
Additional Resources
We offer an editable version of the sample motivation letter for PhD program. You can download that here. It works with both Word and Google Docs and can help get you started on your own letter. 
If you need help writing your motivation letter, there is experienced help out there to help you.  Fiverr is a great resource for finding someone to help you write your motivation letter for your Ph.D. program.  There are a number of great freelancers there with experience writing motivational letters.  There are also freelancers on Fiverr who can help you with your research proposal. We've written a guide to help you get started using Fiverr.
If you decide that's a good route for you, we've put together a guide to help you find the right freelancer for your needs.  They will help you get the motivation letter you need for that Ph.D. program.
Another great resource is Grammarly.  Grammarly is a spell-checking and grammar-checking tool that goes beyond anything you will find in Microsoft Word or Google Docs.  It will help you find misused words and common grammar mistakes.  That's the free version!
The paid version of Grammarly is much richer and an amazing resource if you aren't a natural writer or applying in a language that isn't your primary language.  Grammarly will help you strike the right tone for your letter.  It points out grammar and stylistic problems and will often suggest improvements for your writing.  It's a great resource for you when writing something as important as a motivation letter or application. 
A Sample Motivation Letter for a Ph.D. Program Application
Below is a sample motivation letter you can use to get started. Remember that this is to give you some ideas and the proper formatting. Do not use this letter or even change it for your information. It's here to give you some ideas, but you must write your letter. You can download an editable version of this letter here.
Thank you and Good Luck!!!!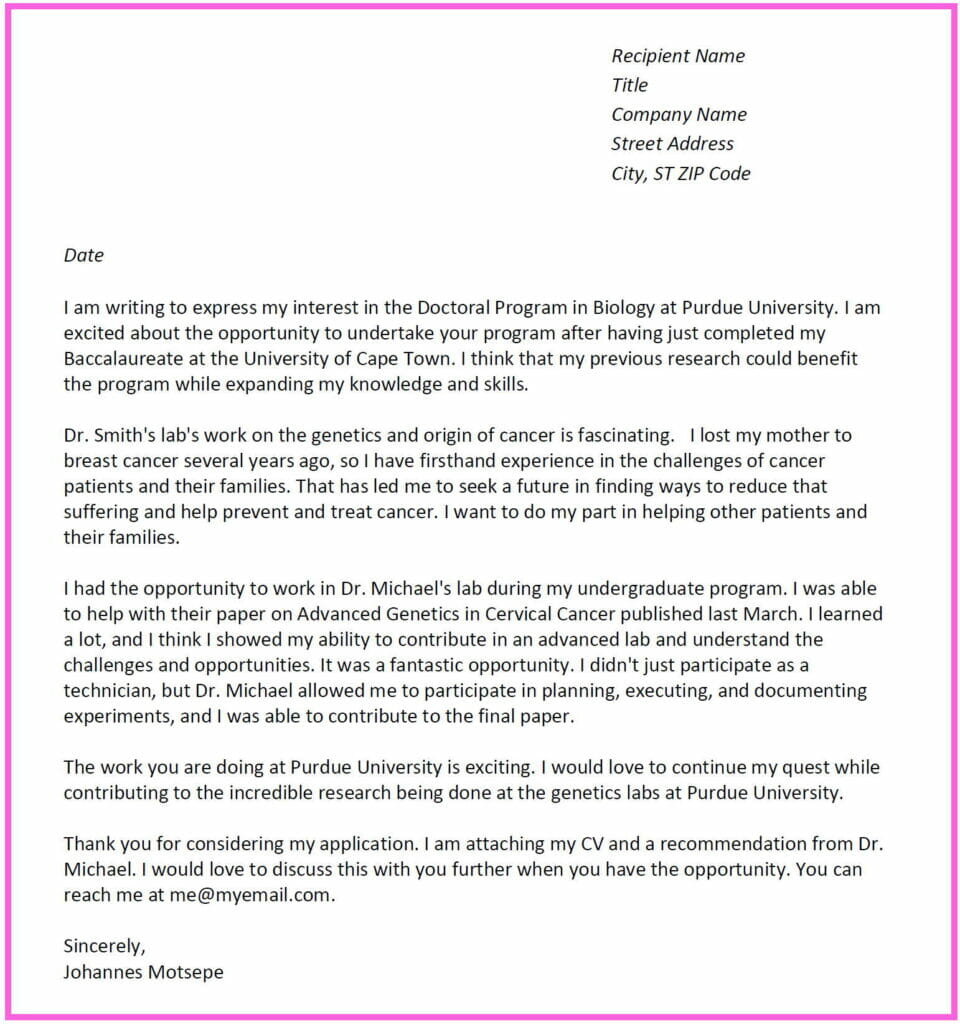 You can also download an Adobe Acrobat (pdf) version of the Motivation letter for Ph.D.
Frequently Asked Questions
How Can My Future Plans and Interests Make a Difference in a Motivation Letter for a Ph.D.?
Attitude is often as important as aptitude. Showing your passion for the area of research or having a personal tie can make a big difference in your selection.