Motivation letter for University is one that helps any university to find or select the right candidate for the courses. If you are going to apply for higher studies in any university that it is important that you must be aware of the motivation letter. You should know how to write one and how to represent yourself while writing a motivation letter.
Also, there is no particular format of writing a motivation letter you can just be started simply like any other letter but it is important to write the perfect body portion of the letter. As your writing one for the university so it is also necessary that it should be completed in the professional tone and free from any kind of errors. Today in this article we are going to learn about the motivation letter for a university, how to write one and what are the things which should not be there in a quality motivation letter for scholarship.
Format of Motivation Letter for University, School, College
In the letter, you need to write some interesting relevant details about yourself which can convince the admission authority and help them in selecting you as the right candidate for the program you have participated in. A perfect motivation letter can be proved as a decisive document for your selection in the respective University.
Although it is not very easy to present yourself in front of higher authorities and convincing them to select for their institution. So in short, in the entire letter, you just have to mention about yourself your qualification what you can do to achieve success in your life and how you are a suitable candidate for the desired program in a university. Next, we are going to know about the things which you should not mention in your motivation letter.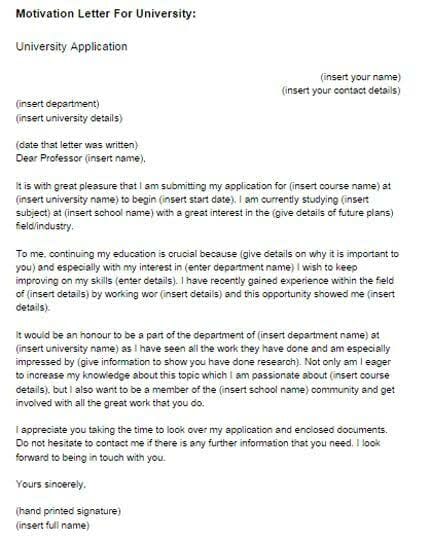 How to write University Motivation Letter?
Things need not mention in your motivation letter
In lack of guidance and proper knowledge. We do some small mistakes which should not be there while writing a perfect letter. Here, in this section we are going to tell you about the things. That should not be there in your motivation letter for you should keep in mind while writing one.
You should always avoid any kind of repetition while writing any letter. It is strictly said that if you repeat any already written information. Then and it can leave a negative impact on the admission officers. They will not find your letter creative and interesting.

The introduction is one of the most important parts of any letter. So while writing about yourself do not include so many phrases for information just try to elaborate about yourself directly in few lines including necessary information.

Very possible that you become excited and want to mention lots of points about yourself, but avoid making too many points as this makes a mess up the things and it will also not seem pleasant to the Reader.

Do not try to be very humorous in your motivation letter it is good to remain positive but forcing humor can take your letter in the wrong way. So busy with your words and try to be more accurate, precise, and creative.

The last thing which we want to mention here is never sending a letter without Proofreading. It may be possible that you have done some unknowingly grammatical error or spelling errors and if you send the letter in the same way then it can leave a negative impact over the reader. So, it is always suggested that proofread your letter correct errors and then send it to the authorities.
Sample Motivation Letter for University (School & College) Admission with Example