Are you looking to study in another country?  Perhaps you want to be part of a program that will take your career opportunities to new heights.  When you submit your application, one strategy to improve your chances is to submit a motivation letter for study abroad.  A motivation letter is a letter written to tell a review board or other decision-maker what a great candidate you would make for their program.
Some of the links in this post are affiliate links. This means if you click on the link and purchase the item, I will receive an affiliate commission at no extra cost to you. All opinions remain my own.
Review boards for study abroad programs are looking for great candidates, but to do that, they have to review thousands of applications.  You must do everything you can to stand out in that group.  You may only have a few seconds to do that.  One of the surest ways not to stand out it to submit the same application as everyone else.  Many applications will have the chance to submit a letter with them.  Whenever this is an option, you need to do it.
Whether you're applying for an exchange program or aiming for a full degree overseas, a compelling motivation letter can greatly enhance your chances of success. The motivation letter is your opportunity to articulate your passion for studying abroad and demonstrate why you're an excellent fit for the program. Here's a step-by-step guide on crafting an impressive motivation letter for study abroad.
Understand the Purpose of Your Motivation Letter for Study Abroad
A motivation letter for study abroad presents you as a candidate from a personal perspective. It conveys your motivations, goals, and why you chose a particular course and country. The letter is designed to convince the admissions committee of your suitability for the program, showing that you'll add value and can benefit from the international experience.
This can be a powerful way to stand out from other candidates.  You can show your drive and your passions.
Do Your Research
Before you begin writing, research the course, university, and country where you plan to study. Understand the course structure, modules, learning outcomes, and potential career paths. Find out its values, culture, and student expectations for the university. Knowing the country's culture, education system, and opportunities for international students will also be beneficial.
You also want to know what they're looking for in a candidate.  What qualities, skills, and experiences are they looking for in a study abroad candidate, and how do you meet those?  You have several sources to review what they're looking for:
Program Description – Read through the description of the program. Make a note of any qualifications in the description.
Application – Sometimes, the application will have different requirements that you must meet.  Some will be simple, but others will be open to your interpretation.
The Components of a Motivation Letter for Study Abroad
Your motivation letter should be no more than one page.  Most readers just aren't going to read that.
You want to address your letter to a person.  That might be the director of admissions, the head of the review board.  Usually, with a few minutes of research, you can find a name and title.  A generic address like "to whom it may concern" can make a letter feel generic.  Sometimes, that's unavoidable, but you want to try to address the letter to an official in the application process.
Introduction – Your motivation letter introduction is crucial. Begin with a strong opening line that hooks the reader. It could be a personal anecdote, a quote, or a profound statement related to your study aspirations. Then, briefly state what you're applying for.  Introduce yourself and why you're writing.  This can be as simple as a few sentences and should be no more than one paragraph.  Use the name of the program and express your excitement about the opportunity.
Body – Discuss why you want to study abroad and how it aligns with your future career goals. Explain why the course interests you, how it complements your past education, and how it will contribute to your career objectives.  This section should be about three paragraphs.

Why Here? Justify why you chose this particular university and country. Highlight what unique features or opportunities attracted you. Discuss how the teaching methodologies, campus culture, or research opportunities align with your learning preferences.
Show How You Adapt to Other Cultures – Going to another country isn't easy.  Studying abroad requires cultural adaptability and open-mindedness. Show that you have these by mentioning any international exposure you've had, languages you've learned, or multicultural interactions you've experienced. Discuss how you can contribute to the diversity of the university and the country.
Showcase Your Qualifications, Skills, and Experience – Here is where you sell yourself. Detail your academic accomplishments, extra-curricular activities, internships, or projects relevant to your course. Discuss the skills you have gained from these experiences. If you have overcome any challenges, talk about how these have shaped your character or driven your ambition.

Conclusion – Close your letter with a few sentences summarizing your candidacy and highlighting the next steps.  In the conclusion, restate your enthusiasm to study abroad and your commitment to succeed in your chosen course. Politely express your hope to be allowed to contribute to the university community.
This may sound like a lot, but it's a simple structure that can be easy to write.  We also have a sample below that you can follow or download an editable version here.
After Your First Draft
Once you've written your draft, you need to proofread it.  Ensure your motivation letter is flawless. Check for grammatical errors, typos, and awkward sentences. Make sure your ideas flow smoothly. Keep it professional, concise, and to the point.
Having someone else read and comment on it can be helpful.  They may see mistakes that you didn't.  Make sure to do simple things like use a spell checker.  A great tool here that goes far beyond a spell checker is Grammarly.  In addition to spell checking, Grammarly will check your grammar, tone, and wording. It's like having an automated editor.  Grammarly is a terrific tool for editing.
Writing a motivation letter for study abroad may seem challenging, but it's an excellent opportunity to reflect on your goals, experiences, and motivations. Remember, it's your personal narrative. Use it to express your passion for studying abroad and convince the admissions committee that you are a worthy candidate.
Other Resources
Sometimes, you may need help, especially if you're not a great writer or you don't know where to start.  Here are a few resources that you can use to help you write your motivation letter.
Motivation Letter For Study Abroad Sample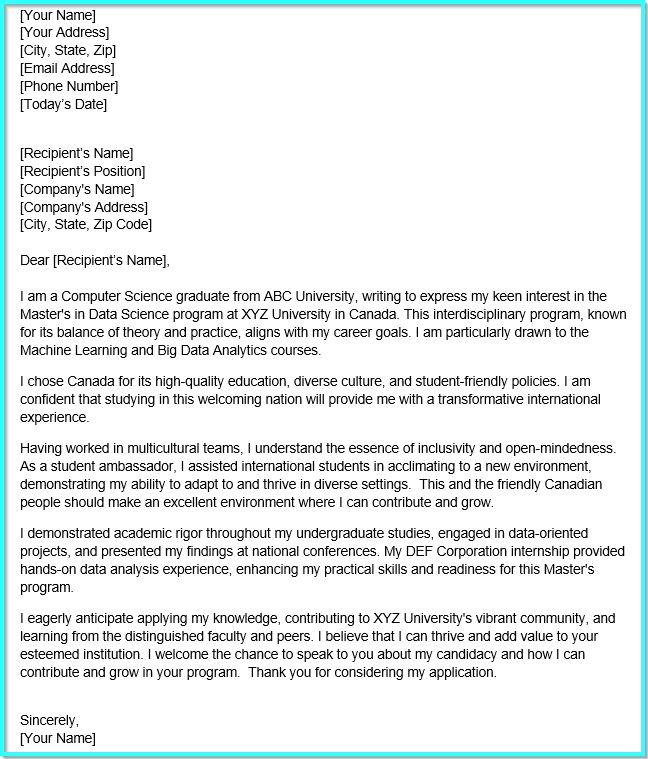 Other Resources
Why a motivation letter is important?
Motivation Letters for Education
Motivation Letters for Foreign Travel