If you have applied to, or are planning to apply for, any scholarship program then in such a condition you must be aware of the motivation letter for scholarship. A motivation letter is like a cover letter for your application.  It's the tool that you use to stand out when you are applying for a scholarship. It is the only way by which you can showcase your skills and knowledge before the personal interview.  Not all scholarships require a motivation letter, but if you have a chance to include one for your application, then you want to include one.  It's a way that you can tell your story.
Some of the links on this page are affiliate links. If you click on the link and purchase the item, I will receive an affiliate commission at no extra cost to you. All opinions remain my own.
Getting the Most out of Fiverr
In this article today we are going to provide you with a few templates of motivation letters for scholarships. We are also going to tell you how to write a perfect motivation letter when you are applying for any scholarship program. Before moving forward let us learn what is the scholarship motivation letter.
Why Include a Motivation Letter for Scholarships
The motivation letter you write for scholarships is different from any essay that you might be required to write.  The motivation letter is your chance to tell your story and why they should pick you.  There are two big questions that you want to answer in your motivation letter for scholarships:
Why are you a good candidate for the scholarship program – You want to tell the decision-makers for a scholarship why you are a good candidate for the program and why your background, education, and goals are good for their program.
What Are You Going to Do With the Education That the Scholarship Makes Available – If you are chosen, why do you want to be part of the program, degree, school, etc. that you can get with the scholarship?  Most scholarships have goals for their program. They are trying to help students advance, make something possible that wouldn't be otherwise or help bring educated practitioners to certain areas.  Read through their program and consider how their goals line up with what you are trying to accomplish and why you can help them accomplish it.  Will you become an amazing doctor?  Will this let you get a degree you couldn't afford?  Will you be able to be a great spokesperson for disadvantaged students in the future?
Your motivation letter is how you can communicate to someone reviewing your application. You want to show them how you are a great candidate and what you will do with the education that you are going to get.  Motivation letters help your application stand out to the review committee.
Format of Motivation Letter For Scholarship
You might have heard about the cover letter which is included when you apply for any job along with your resume or CV similarly motivation letter is just like that. The basic aim of providing a motivational letter is to explain why you are a good candidate for the particular scholarship and what you are planning in your education life after receiving the scholarship amount.
In most of the programs, the review committee goes through these motivation letters to narrow down their search for the right applicant. If you are applying for the Graduate Level scholarship then in such conditions you must provide a motivation letter as it is the one that can help you in putting forward your own views.
How To Write a Motivation Letter For the Scholarship?
In this section, we are going to learn about the structure of a motivation letter. Just like any other letter, it has three parts introduction, body, and conclusion. In the introduction, you need to mention your name education level, and the program for which you are applying.
In the portion of the body, you need to mention around two or three paragraphs. Where you will be going to include any relevant experience. You can also explain any of the unpaid and paid internships you had in your life, volunteer activities, special educational programs, or anything else that helps you stand out from other candidates. In the next paragraph, you can discuss your education goals. What do you want to achieve in your life or why you are applying for the particular scholarship program. In the last paragraph speak briefly about your future plans and dreams. You want to achieve this after completing your education.
The body should have at least the following elements:
The key elements of your background.  – Don't make the review committee search, connect the dots for them. Highlight past programs, experiences, and activities that make you a great application.
Your Education – This is a scholarship application, so you need to discuss your educational background and your goals.  Just like when you are applying for a job, go through the scholarship's requirements, mission, and values which should all be available on their website.  Use similar language and synonyms when you highlight your own experience.  Do not ever lie.  You must be honest.  You can use similar words and ideas, when it fits when you think about your own background and experience, and what to include.
Plans for the Future – This is where you tell the review committee what you plan to do with the opportunities that you will get from the scholarship.  If you can attend the program or school that the scholarship lets you, what will you do in the future?  You want to make them want you.  This can also be part of the conclusion.
Close it out with a simple conclusion saying how excited you are about the opportunity.  It should wrap up your future plans.  Build a bright view of the future made possible by the scholarship you are applying for.  Perhaps you could tell them about the career that you can have with the scholarship. It might open the door to new educational opportunities.  You can even tell them how you want to start your own scholarship, charity or other amazing future.
Your motivation letter for a scholarship should be about 500-1,000 words. Ideally, it should be one page with short paragraphs.  There's a good chance that a reader won't make it past the first page.  Thankfully, though, this is a motivation letter that you can probably get away with making a little bit longer.
Motivation Letter For Scholarship Sample with Example
There are a few things that you should not do while writing a motivation letter for the scholarship. As it can leave a bad impact on the reviewer. You need to write a well-written letter without any spelling errors or grammatical mistakes it is suggested that only use a professional tone and advanced phrasing method without any slang or colloquialism. To make yourself clearer you should provide a few examples related to your past present and future experiences and should always stay away from any vague generalizations. 
So these are a few things we should not be there in your scholarship letter. Apart from this intentionally we are here also providing you some templates that can help you in writing a perfect motivation letter you can take help from these free-of-cost templates. You can simply download any of the desired templates and have a print of it apart from this we hope that you will not face any kind of difficulty or problem while writing a letter for yourself.
Motivation Letter for Scholarship in PDF Format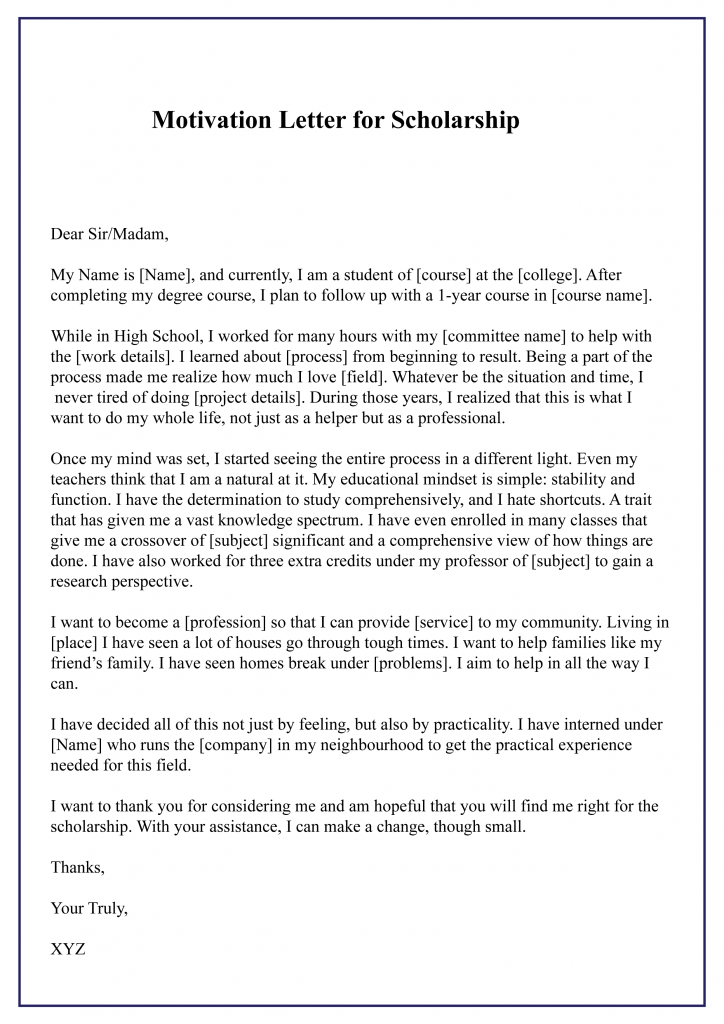 Some Things to Avoid In Your Motivation Letter for Scholarship
As with any letter, you are applying for an educational opportunity. Check your spelling and your grammar.  Be specific, don't make vague statements.  Anyone can do that.  Be specific in your statements, your experiences, and your future. You want them excited about your application.
Of course, every word processing program out there has a spell checker.  That will help. A great tool to consider is Grammarly.  They have a fantastic product that is much more robust than anything you will find in your normal spell checker.  The free version does a great job of spell checking, including commonly confused work (like "to" and "too"). 
If English isn't your first language, or you aren't a strong writer, it's well worth checking out their paid version of Grammarly. In addition to spell checking, it will suggest better phrasing and help you with the tone of your letter. It's a great resource for improving your writing.
Make sure that you are professional and respectful.
Other Resources for Writing Your Motivation Letter for a Scholarship
We provide this guide to you so that we can help you write a motivation letter that works for you.
We do offer a template that you can download and use to get started. It provides you with a good format that you can use to write your motivation letter. It works with both Microsoft Word and Google Docs. We've designed it to be easy to use and very affordable.
If you need something more, we recommend working with a freelancer on Fiverr. Fiverr is an online marketplace where you hire freelancers for projects that they advertise for. There are several authors on Fiverr who advertise Motivation Letter writing projects. They can help you write or edit your motivation letter to help you get the best motivation letter for scholarships that you can have. We have built some resources to help you work on Fiverr if you need it.
Motivation Letters for Scholarships Can Really Help You Stand Out
Scholarship review committees definitely pay attention to motivation letters.  If you write a great motivation letter, you can really increase the chances of standing out from other applicants.
Make sure that each motivation letter that you use for scholarships is unique.  There will definitely be some similarities but you want to make sure that you tailor your experiences and your future plan to fit the scholarship programs.  The review committees could be reading hundreds or thousands of these.  It's your job to show them why you are the best applicant for the scholarship.
Good luck!