According to the US Bureau of Labor Statistics, the number of warehouse jobs has increased 90% since 2020 with over 120,000 more through 2029.  That's just in the United States!  With the advent of Amazon, drop-shipping, and e-Commerce in general, similar growth is available around the world.  There are more warehouse jobs available than ever and it's a great opportunity to work hard, make money and advance in your career.  First, you have to get the job.  Here we will go over how to write a cover letter for a warehouse job to help you get that job.
What Does a Warehouse Worker Do?
A warehouse worker processes and loads orders that come into the warehouse. 
Unload trucks coming into the warehouse
Make pallets out of orders of common items
Load trucks with pallets
Pack orders for delivery to customers
Warehouse workers will need to be able to work hard and keep records of what they do.  Good organizational and data entry skills can be important.  For this kind of job, you'll need to show that you can work hard and accurately.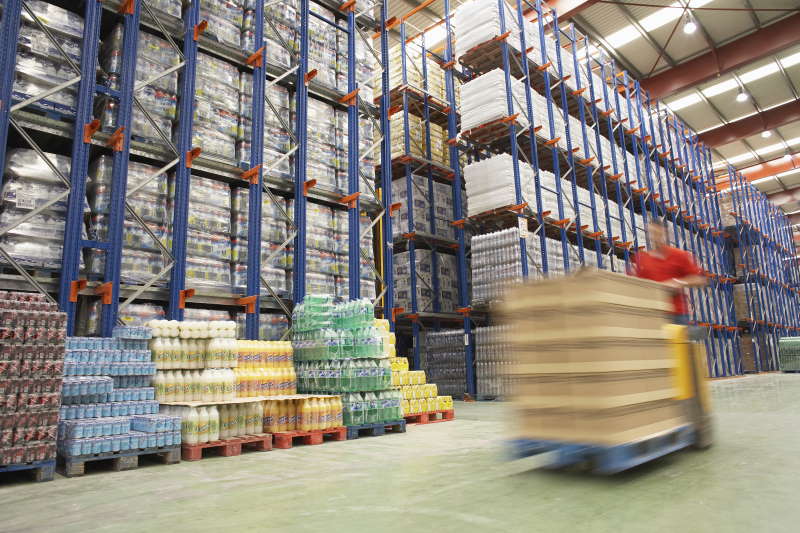 Why Submit a Cover Letter for a Warehouse Job
Any time you apply for a job, a cover letter helps to show that you are a strong candidate.  Taking the time to complete one will help move you ahead. It shows that you are serious about the job, willing to do the work and take the time to do what's necessary. 
About half of HR managers say that a cover letter is the second-best way to get noticed for a job.  It's second behind a tailored resume for that job, so you want to do both. A cover letter is important.
The good news is that we will show you a quick and easy way to write a cover letter for your application for a warehouse worker job.
The Structure of a Cover Letter for a Warehouse Job
A cover letter should have three parts, very similar to motivation letters:
Introduction – In the introduction, you want to highlight the role that you are applying for.  You can also highlight how you found out about the job, especially if you have a referral or reference in the company.
Body – The body is a bit longer, usually around 2-3 paragraphs.  You want to highlight why you're a great candidate for the job.  Describe your experience, your passions, and anything that might make you stand out from other candidates.  This is also a good time to tell them why this company.  Do a bit of research, looking through their website, the job listing, and maybe their popular press.  For example, the job overview below is from Amazon's website.  You could tell them about how you enjoy taking pride in your work and being able to serve customers.
Conclusion – Closing out your cover letter is your last opportunity to make an impression.  Summarize your qualifications and let them know how to contact you.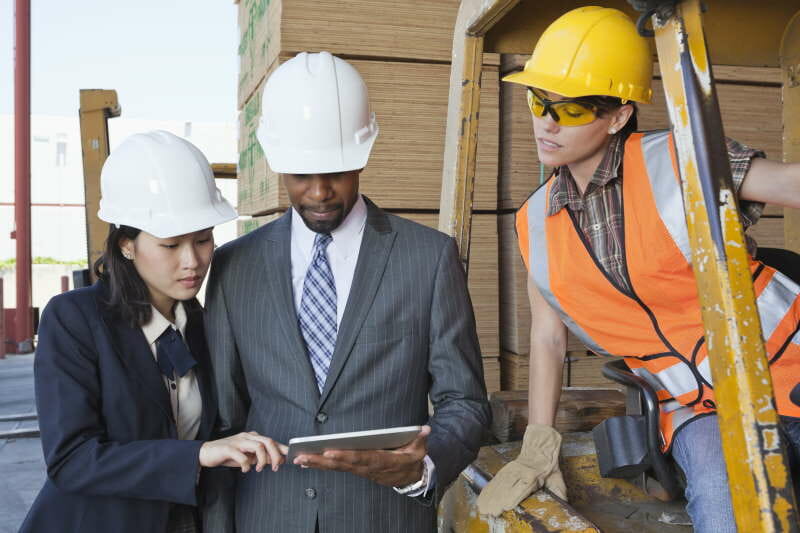 Editable Cover Letter for a Warehouse Job
This is an editable version of our cover letter for a warehouse job.  You can use this in Microsoft Word or Google Docs.  It will give you a quick start on writing your own cover letter.

Your cover letter should be no more than one page.  You'll be lucky to have them read that much so the shorter the better.  This means that you don't have to write as much but what you do write needs to count.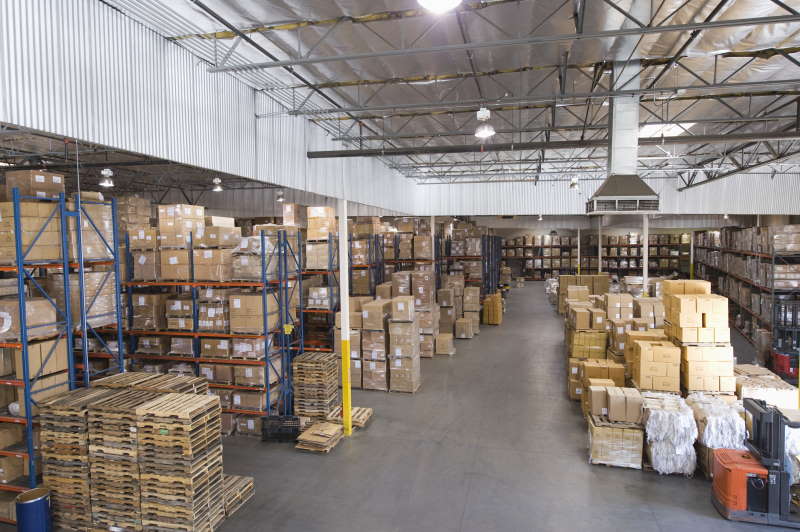 What To Include in Your Cover Letter
The minimum things that you want to include in your resume include:
The job you're applying for
The name of anyone who referred you
The past experiences, interests, and goals that make you a great candidate
Your contact information
It's a good idea to address your letter to the hiring manager or, at least, the human resources recruiter for your position.  It's more personal than "to whom it may concern."
Before You Send Your Letter
Before you send your cover letter for that warehouse job, there are a few things that you'll want to do
Carefully review and edit your letter.  It's a good idea to have someone else read it. They haven't been staring at it for hours.  Ask them what questions they have or what wasn't clear. 
Check your spelling.  This is important.  If you're not a great speller or a great writer, tools like Grammarly are fantastic at checking these things for you. 
Check the address
Sign It
There you go, now you're ready to send your cover letter for the warehouse job.  Good luck!
Cover Letter for Warehouse Job Example
Below is a sample cover letter for a warehouse job.  This is a guide, and you should not use this one.  It's here to give you an idea of how your cover letter should read for that warehouse job you're looking for. We also have a pdf version of the cover letter that you can download.
We offer an editable version of this letter if you want a real jumpstart.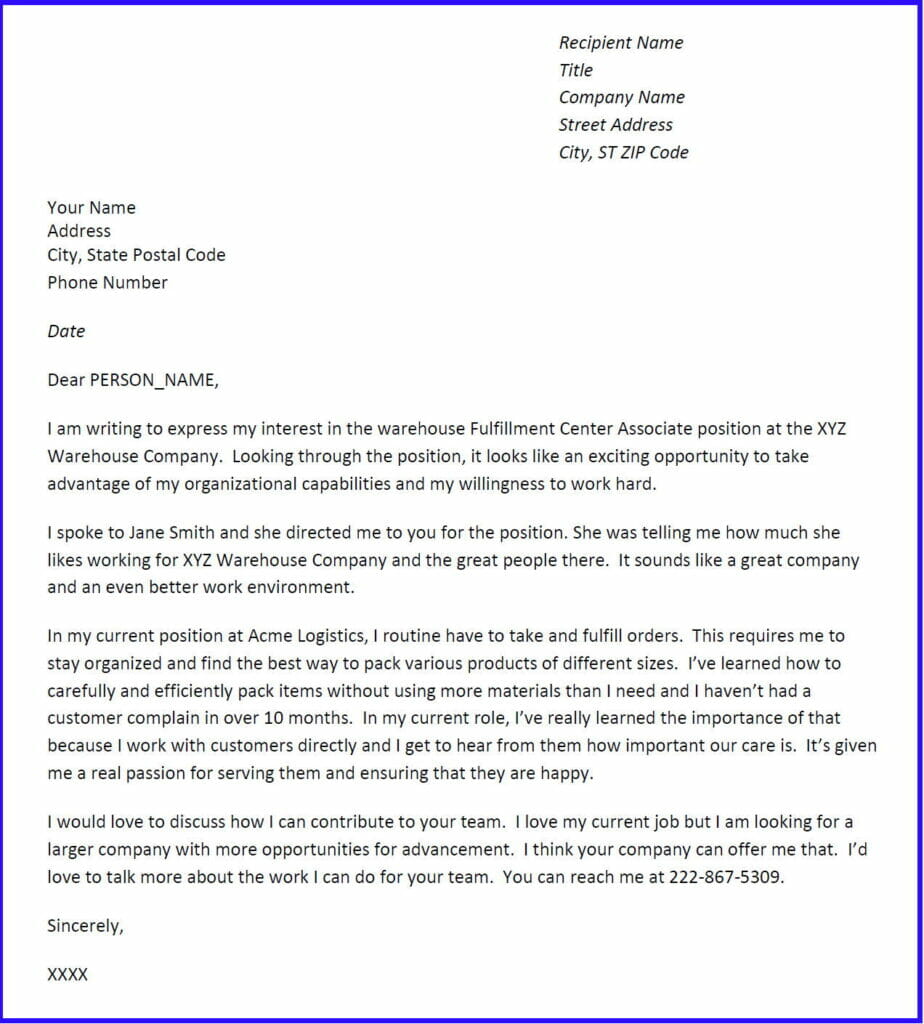 Frequently Asked Questions
How Long Should a Cover Letter for a Warehouse Job Be?
No more than one page. Often 3-5 paragraphs are enough. Most hiring managers are busy and don't want to spend a lot of time reading a long letter. At the same time, they want to hire a qualified candidate as soon as possible. They need someone, make it easier to hire you.
Is a Cover Letter Worth it for a Warehouse Job?
Yes. Anything you can do to stand out and show why you are a great candidate will help you. Your goal is to stand out from other applicants. A cover letter for a warehouse job will help you do that. It doesn't have to be long.
I'm not a Very Good Writer. What Can I Do?
You have a few options here.
The free option is to take our free template and edit it for your experiences.
Grammarly can be a great tool to help you with spelling and some grammar. The free version is pretty robust. If you don't mind spending a few dollars, it can give you some suggestions on how to phrase things better, how easy it is to read your cover letter, and a lot more.
If it's in your budget, you can hire someone on Fiverr to write a letter for you. They will ask you about your background and information and draft a letter for you. This is the most expensive option but it's also the easiest if you really aren't up for writing it yourself.