Many schools offer great summer school programs that can offer unique opportunities, accelerated courses, or shore up your knowledge in a particular area.  You may not have to apply if you are already attending a college or university, but often you will need to compete for limited space.  The program may often be at a different school or have its own acceptance criteria and application process.  For these, it can help to include a motivation letter for summer school with your application to show how you are a great candidate for the program.
A motivation letter is similar to a cover letter for a job application.  You use one to communicate to an admissions officer how your background, interests, and goals make you a good fit for the program.  The goal of a motivation letter for summer school is to set yourself apart from other applicants.  It's a great technique for improving your chances of admission, even when a letter isn't required.
In this article, we will talk about how to write a strong motivation letter for summer school.  We will provide you with a sample that you can use when writing your own motivation letter for summer school.  Let's start writing your motivation letter so that you can get into your summer school program.
Some of the links on this page are affiliate links. If you click on the link and purchase the item, I will receive an affiliate commission at no extra cost to you. All opinions remain my own.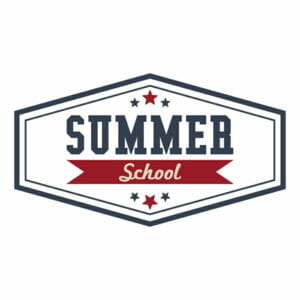 Finding Great Summer School Programs
There are a variety of fantastic summer programs out there for all levels of education.  These can vary from themed summer camps, often for high school, middle school, or elementary programs.  There are also programs available for college students as well.
There are several directories online. For example, educationunlimited.com provides information on several programs.  With a little research and creativity, you can often find programs at interesting places like the Centers for Disease Control and Prevention interested in public health.  Many museums and zoos will have their own programs.
For college-aged students, many colleges offer courses and programs.  Probably the best place to start is with your own university if you're attending one because these programs often aren't advertised anywhere off-campus.  These can vary from accelerated programs offering a course in a few weeks (or as short as a week.)  Sometimes, they offer overseas courses either in partnership with other institutions.
Universities and colleges often offer specialized programs like this science program from UC Davis or this list of courses from Harvard University.
It may take some research but many opportunities are available for summer programs for students.  They are in various subject areas and can help you advance in your education or learn about new areas of study.
Preparing for your Motivation Letter for Summer School
The first thing that we need to do is to determine what the program is likely looking for.  With that in hand, we will look at your qualifications, CV, education, background, and goals and see how those fit with what the program wants.  Ideally, you can find a compelling story for why they should pick you to attend their program.
The first step in this process is to read over the requirements for the program.  Write down any minimum and preferred requirements.  It can also be helpful to look at current and past attendees and include any qualifications that they had in common.  Most programs don't accept the minimums as they often have candidates that exceed the minimums.
Then, review your background and write down anything that meets the list of requirements.  Don't leave anything out at this point. Just make a list.  Here are some of the things to consider
Your Academic History – Look at your courses, projects, and marks or grades, and include anything related to the summer school program.
Work History – Include any jobs or work projects that are related.  These can be a great way to set yourself apart.
Volunteer Activities – Look at any volunteer activities you have participated in and include anything related to the summer school program.
Your Goals – Take a good look at your goals, career aspirations, and dreams and consider ways this program could help you achieve these.  Helping someone achieve goals can be very aspirational.
With this list, we can start writing your motivation letter for summer school.
Writing Your Motivation Letter
We recommend a three-part structure for motivation letters.  You'll open with an introduction, and move to a body where the bulk of the information is.  Then you'll close with the conclusion thanking them for their time and offer to meet them or have a call to discuss your candidacy.
We are going to take them in order, but sometimes it can be easier to start with the body and then come back to the introduction and conclusion.  So, if you're stuck on how to start, this might be a good strategy.
You want to start by writing your letter to someone.  Try not to write a generic letter.  You could write it to the person in charge of admissions for the program, the professor running it, or the program's dean.  You want to make as much of a connection as you can.
You also want to keep your letter to one page.  Most people aren't going to read beyond that anyway.  You want the greatest chance that your letter is read, and keeping it brief will help with that.
Introduction
The introduction is a quick paragraph of a few sentences.  Start by introducing yourself and the program you are applying to and why you are writing.  Then, one or two sentences that sum up why you think you would be a great candidate.
The introduction is very simple and should be short.  You want to leave the most opportunity for the body of your letter to do your work.
Body
The body of your letter should do most of the work.  Review the lists that you made above and look for the ways that you can most show that this is the program for you.  If you have a compelling story, that's wonderful and can be very powerful.  Sometimes, you might include several things if that makes sense.
The body of your letter should be 1-3 paragraphs.  You want to tie your background and goals to what the program will help you achieve. Maybe it will allow you to get to the workforce faster and start working in your chosen field. Perhaps it will expand your understanding of a key area.  Maybe it's a program abroad and will not only help your understanding but also expose you to the culture and history of a country you're interested in.
The important part is to connect what you bring to what the program wants.  Inspirational stories are great when you have them.  We don't always.  At a minimum, you want to show that you took the time to understand the program and what you can bring.  In some cases, if you're writing to the professor, you might even use their background and expertise to show interest in that area.
"Your work on the mating habits of nematodes is fascinating.  I've been studying some of the basics in recent coursework and I would love to be able to expand on that and learn from your expertise."
Everyone likes a bit of flattery (when it's true.)  Above all else, be genuine.
Conclusion
In the conclusion, express your appreciation and excitement about the program.  Close by offering a phone call or meeting to discuss the program and your candidacy more if they have any questions.
Before you send it, make sure to review it for proper grammar and spelling.  It can help to have someone else read it.  If you're not going to do that, make sure to use spell-check.  Programs like Grammarly do a good job of picking up spelling errors and common grammatical mistakes.
Additional Resources
Here are a few resources that you can use to help you write your motivation letter.
Sample Motivation Letter for Summer School
Below we are including a sample letter that you can use for the format and structure of your letter.  Hopefully, this will make it easier for you.
Good luck!  Let us know how it goes and we look forward to hearing about your summer school experience.