You might have heard about the term motivation letter, also known as the letter of motivation.  They are great tools for helping you stand out from the crowd of other applicants.  One such letter is the motivation letter for apprenticeship, also called a learnership, which you can use any time you are applying for a learning position in a working environment or a form of on-the-job training.  A motivation letter helps explain to the decision maker, such as a hiring manager, why your skills, motivations, and background make you the best candidate for an apprenticeship program.   
Many people miss guiding the motivation letter with a cover letter, although there is a vast difference between both of them. A cover letter is only used when you apply for any job along with your resume, while a motivation letter is one in which you explore yourself and write about your skills while applying for any program. In it, you need to explain your exciting activities, your motive for applying, why are you choosing the specific program or university, etc. These are some things that are mentioned in the motivation letter.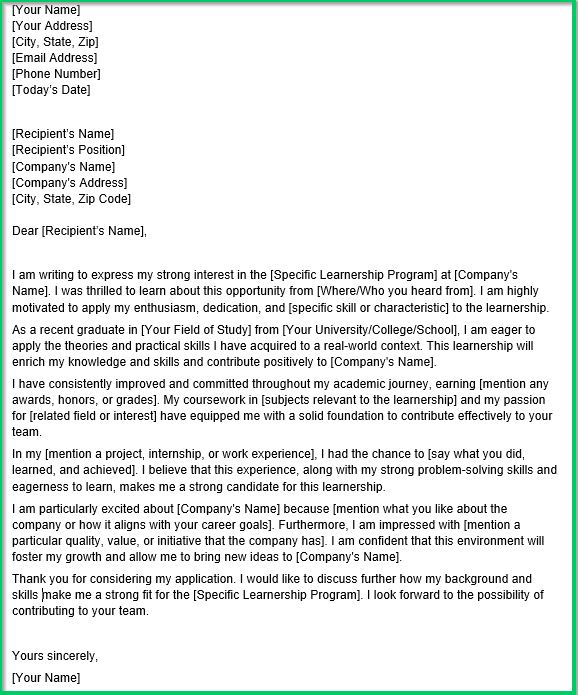 Today in this article, we will provide you with the motivation letter and techniques to write one for you. So now, at first, knowing how you will write a good motivation letter is necessary.
How to Write a Motivation Letter for Apprenticeship
An apprenticeship is an opportunity to learn a career in a real setting. You work with a professional in your area on actual jobs to learn the skills that you need.
Applying for an apprenticeship can be an exciting step in your professional journey. As part of the application process, many companies request a motivation letter. Even if they don't request one, you should include one.
This document is your opportunity to introduce yourself, explain your interest in the role, and demonstrate why you would be the right fit for the apprenticeship. It's a great tool for standing out from other candidates.  Writing an effective motivation letter requires careful thought and clear communication. Here's a step-by-step guide to help you craft a compelling letter that can boost your chances of securing your desired apprenticeship.
A motivation letter serves as a detailed explanation of why you are the best candidate for the apprenticeship. The goal is to convince the employer that you have the skills, experience, and motivation necessary to excel in the role. The letter should complement your resume, providing deeper insights into your qualifications and interests.
Research The Company and the Role
Before writing your letter, research the company and the apprenticeship role. Understand the company values, goals, skills required for the role, and what they expect from their apprentices. This knowledge will allow you to align your motivations and experiences with the company's needs, showing that you are a great fit.
Here is a quick checklist of things that you want to find about the company and the role.  These will give you help you find skills and characteristics about yourself to include in your letter.
What are the company's goals?
What are the company's values?
What skills and experiences are they looking for in the position that you are applying for?
What education do they want for this position?
Knowing these will guide you in what your letter needs to include.  Think of examples in your past that show how you align with these goals, values, and skills.
Structure of the Letter
A motivation letter typically follows a simple structure:
Introduction
State your purpose for writing the letter and mention the apprenticeship you are applying for.
Your introduction should be concise, stating the purpose of your letter and introducing yourself. Include the specific apprenticeship role you're applying for. Here's an example:
"Dear [Recipient's Name],
I am writing to apply for the [specific role] apprenticeship program at [Company's name]. As a [your current role or field of study], I am eager to apply my knowledge and skills in a practical setting, and I believe that your company provides the ideal environment for this."
Body
This section should contain at least two paragraphs. First, explain why you're interested in the apprenticeship role and company. The second one should showcase your skills, experience, and achievements that make you suitable for the role.  Review your research and look for examples of how your knowledge, skills, abilities, and values align with what the company wants for your position.
First Paragraph: Explain why you're interested in this particular apprenticeship role and company. Refer to your research on the company's values and goals. Here's an example:
"I am particularly attracted to [Company's name] due to its reputation for supporting the professional growth of its apprentices. Your company's commitment to [specific company values or goals] aligns with my personal interests and career objectives."
Second Paragraph: Discuss your qualifications and experiences that make you a good fit for the role. Try to link these skills and experiences to the requirements of the apprenticeship. Make sure you provide examples to support your statements.
"In my current role as [current role/position], I have gained [specific skills or experiences]. For instance, when I [describe a situation where you used that skill]. I believe these experiences have prepared me for the challenges and responsibilities of the [specific role] apprenticeship at [Company's name]."
Conclusion
End with a brief summary, reiterate your interest and express appreciation for the reader's time.  You also want to close with the next steps.
This simple few-paragraph structure should be limited to one paragraph.  Most decision-makers aren't going to read more than that anyway. You need to get their attention, show how you are a star candidate, and close it out.
The conclusion should be brief and impactful. Reiterate your interest in the role, express your eagerness to contribute to the company, and thank the reader for considering your application. Here's an example:
"I am confident that the [specific role] apprenticeship at [Company's name] would be a significant step in my career, and I am eager to contribute my skills and enthusiasm to your team. Thank you for considering my application. I look forward to the possibility of discussing my candidacy further."
Proofreading and Editing Your Letter
Before sending your motivation letter, proofread it carefully for grammar and spelling errors. Also, ensure it's clear, concise, and professional. You could also have someone else read it over to provide feedback. Grammarly is a terrific resource for editing your letter. It will help you with tone, phrasing and grammatical errors.
Other Resources
Here are a few resources that you can use to help you write your motivation letter.
Sample Motivation Letter Template for Learnership
In this section of the article, we will provide you with the free-of-cost template of the motivation letter. It will be available completely free of cost. They help you in writing a perfect letter for yourself. If you feel that education is the only way you can express or can lead to high in society, then you are hair completely wrong as things have been changed now.
Therefore there are many aspects by which society judges you apart from education. Almost everything is changeable in this digital world. But there is one thing that will remain the same till the last breath: leadership. As you like everyone, we also suggest you look forward for the better and best opportunities which can help in developing more skills and clearing more job interviews.