A motivation letter for volunteer is one of the most noble letters that one can come across. Consequently, a letter serves the noble purpose of volunteering one's self for a cause. Our readers can here check out the writing tips to write the motivation letter for volunteers. We shall further leave below some sample motivation letters for the volunteering purpose.
Well, we know that volunteering is a noble act to do for any noble cause by an individual or a set of people. Volunteers undertake a cause to make it happen at their own will and without receiving any such monetary credit in return. For instance, people may take part or volunteer for the acts of NGOs in any welfare domain. So, this selfless and welfare cause is what actually known as volunteering.
A motivation letter for volunteering is basically a medium, it hence conveys individual's will of volunteering themselves. Volunteers may write this letter to conveys their motivation to undertake or participate in any volunteer activities.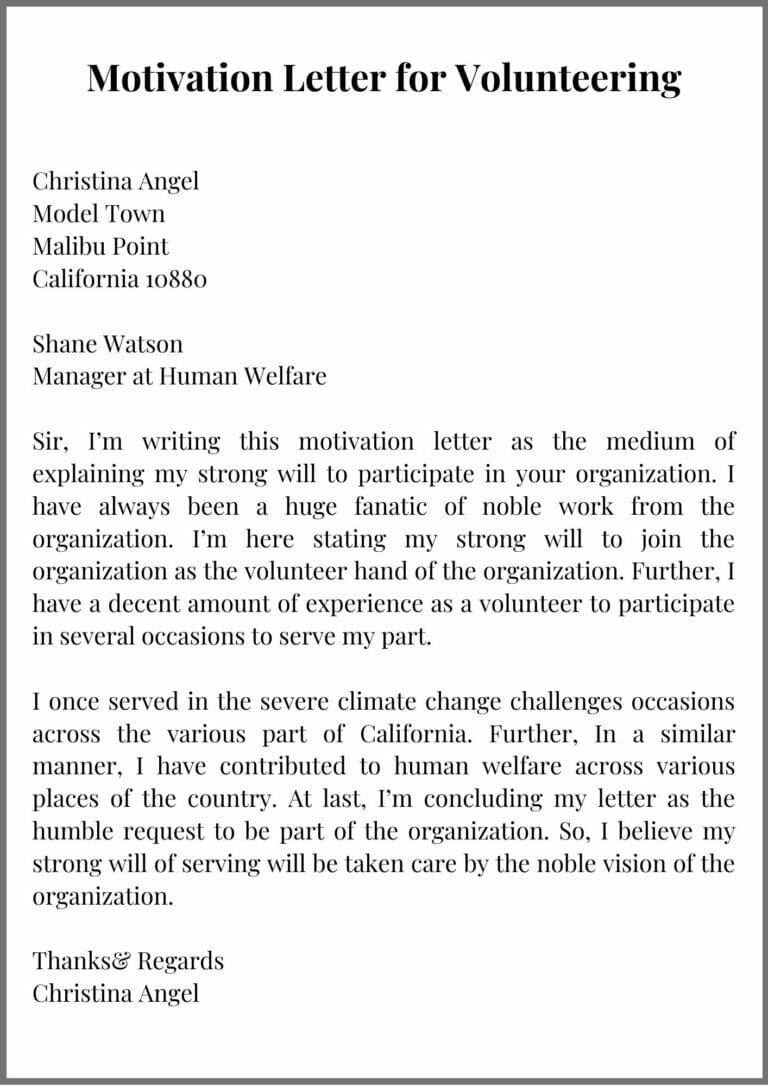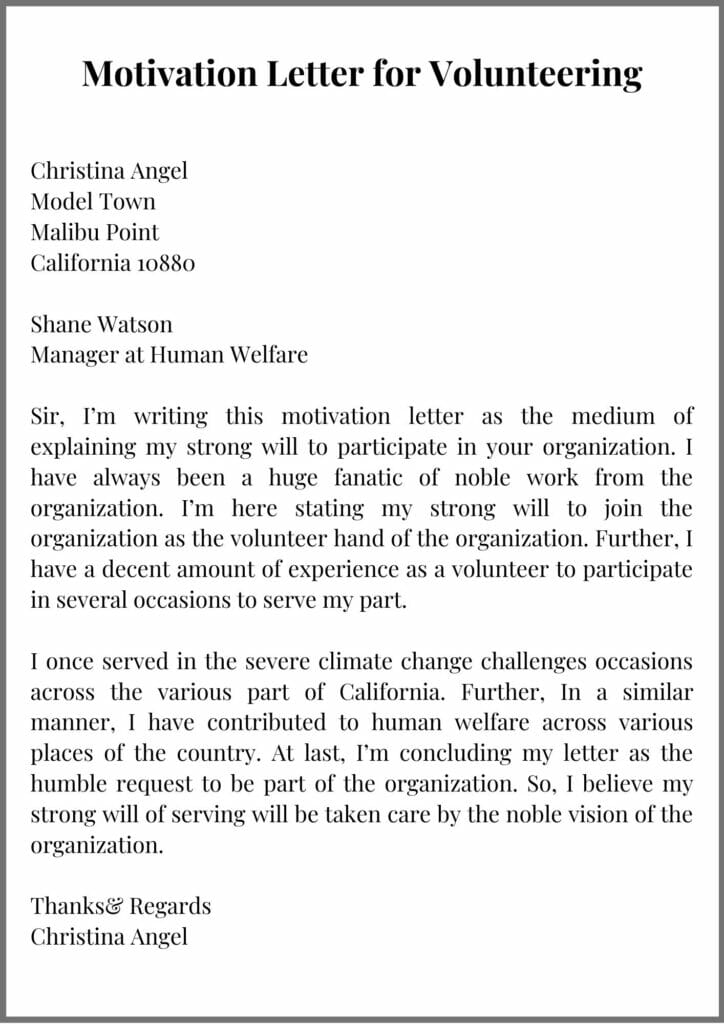 How to Write the Motivation Letter for Volunteering?
Writing the motivation letter even for volunteering requires some discipline and pure dedication of words. The volunteer institutions often consider the diligent volunteers to act with minimal resources and maximum output. So, as a volunteer you need to convey reasonably well motivational words to seek participation. We are listing down some useful tips below on drafting the unique motivation letter for volunteering.
First of all start the letter with a kind and formal salutation tone to the readers.
Choose the wise and calm set of words for the salutation and for the rest of the letter.
Introduce yourself to the reader with some educational background and most importantly provide your working experience as a volunteer.
You can skip the working experience part if you don't have any experience but don't brag of any false experience.
Explain how you got to know about the concerned ngo or organization.
Provide some deep understanding facts of the organization to convey your deeper sense of information about the organization.
Now you can state what inspired you to sign up for the concerned act of volunteering.
Be genuine and provide only the genuine motivation for volunteering.
 Sample Motivation Letter for Volunteering
Here we are dropping down the sample letter of motivation for volunteering. Our readers can take the look of the letter to draft their own letter.
Christina Angel
Model Town
Malibu Point
California 10880
Shane Watson
Manager at Human Welfare
Sir, I'm writing this motivation letter as the medium of explaining my strong will to participate in your organization. I have always been a huge fanatic of noble work from the organization. I'm here stating my strong will to join the organization as the volunteer hand of the organization. Further, I have a decent amount of experience as a volunteer to participate in several occasions to serve my part.
I once served in the severe climate change challenges occasions across the various part of California. Further, In a similar manner, I have contributed to human welfare across various places of the country. At last, I'm concluding my letter as the humble request to be part of the organization. So, I believe my strong will of serving will be taken care by the noble vision of the organization.
Thanks& Regards
Christina Angel