Getting a Masters in Business Administration these days is a cost of admission for lucrative careers in areas like finance, consulting, and some management positions.  These programs can be very competitive, especially if you want to attend a program with a strong pedigree.  Often, the contacts and alumni from these programs can be life-changing as you pursue your career goals.  As part of the lengthy application process, a motivation letter for the MBA program can help improve your chances of being accepted into such a program.
A motivation letter is a letter for a position or application designed to compel a decision-maker to believe you are a good candidate for that position or program. It's very similar to a cover letter for a job application but can be used for much more than a job.  They are common with educational programs, loan applications, and more.  We will spend a few minutes discussing some techniques and preparation that you can do to write a stronger motivation letter and improve your chances of getting accepted to the MBA program.
Some of the links in this post are affiliate links. This means if you click on the link and purchase the item, I will receive an affiliate commission at no extra cost to you. All opinions remain my own.
Why You Should Write a Motivation Letter for MBA
The top MBA programs accept as few as less than 10% of their applicants.  Many accept 30% or less.  This means that your application needs to stand out.  Everyone fills out the same application, so it is tough to improve your competitiveness there.  Of course, good grades, the right extracurricular programs, and the like will help you stand out.    Many applicants are just as competitive.  Your motivation letter for your MBA application is an opportunity to shine above others.
The motivation letter is designed to show acceptance committees that you will represent their MBA program well and that you can be successful.  You're going to do this by showing your accomplishments, goals, and other experiences that make you unique as an applicant.  If your letter crosses a decision maker's desk, the motivation letter you submit with your MBA application can help determine whether they accept you or not.
Let's take a look at what you can do to stand out in your motivation letter for an MBA application.
Preparing to Write Your Motivation Letter for MBA Program
We suggest gathering two sets of information as the first steps to getting what you need to write your motivation letter for your MBA application. The first are the characteristics of what they are looking for in a candidate, both required and preferred.  The second step will be to gather how you can meet these.
Step1: MBA Program Requirements
Every program will have two sets of "requirements."  That's in quotes because there are really two sets.  One set includes the minimums of what the program wants to see.  These are generally non-negotiable, so you have met these.  The good news is that they are generally easy to find.  They are typically published in program material on their website.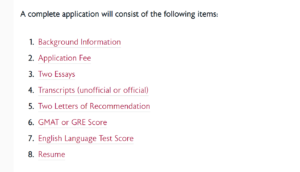 This is the first thing that you want to gather. You can start making a list.  The second set of "requirements" aren't technical requirements.  These are the things that the program typically wants to see from a candidate to be competitive.  For example, they might like students with a 3.6 GPA or who have worked in business already.  These things may not be required for you to get into the MBA program, but you will be at a disadvantage compared to other applicants without them.
This second set of requirements are tougher to find.  There usually isn't a list.  You may need to do some detective work.  Here are a few ideas:
Google Search – Periodically, there are rankings and reviews of different programs.  Doing a Google search for your school and program with keywords like requirements, reviews, and competitive can help you find these.
Review LinkedIn Profiles – You can search LinkedIn profiles of current students and graduates and look for any patterns in the backgrounds (like types of schools, work backgrounds, and courses of study.)  Include in your list any of these patterns.
Interview Current Students – Sometimes, students will know common competitive traits.
Ask – Sometimes, it is as simple as contacting the admissions office and asking them what traits most students have to be competitive applicants.
List your traits, backgrounds, and accomplishments for the program.  This will become your foundation for considering how you hold up and where you can stand out.
Step 2: Make a List of How You Compare
The next step will be to list your traits, accomplishments, and experience.  If you have a CV or resume, this is a good place to start.  Using the list you made above, write down how you meet those requirements.  Better yet, think about how you can exceed them.  Don't worry; you may not have a match for everything on your MBA program list.
Now, look back over your CV and school background.  Consider any projects, experience, jobs, or businesses that you have had that can help you prepare for the MBA program and stand out as an excellent candidate.  For example, "I have started four profitable businesses since I was a teenager.  That's helped teach me the importance of cash flow, managing revenue, managing stock, and even managing people."  Some ideas of things to consider include
Starting or running a business
Selling a business
Running a large project
Managing the financials for any business or non-profit
Managing people
The great news is that you didn't even have to be successful.  Failing to do something well and learning from it is an accomplishment.  Almost half of all businesses fail in the first five years.  So, you don't have to start the next successful company for these accomplishments to be valuable.
Another thing to write down is your future goals.  Consider why you want the MBA degree and what you plan to do with it.  Sometimes, laying out a bright and exciting future can motivate a reader or pique their interests.  If it gets them to call or interview them, your letter has done its job.
These two lists are going to be the foundation of our motivation letter.
Start Writing Your Motivation Letter
With your two lists, it's time to start writing.  We recommend a three-part letter.  This makes it easier to write and organize.
Introduction – The introduction is a simple one-paragraph section that opens the letter where you introduce yourself and the program you're applying for.  You can also include one or two sentences introducing why you're a good candidate for the MBA program.
Body – The body is the main part of the letter, and you'll spend 1-3 paragraphs giving some evidence that you are a good candidate.  You want to show them that you have looked at the program, considered what they're looking for, and that you can meet those.  You will be a great steward of the school and are likely to be able to complete the program successfully.
Conclusion – The conclusion will close out your letter.  Thank them for their time and offer to be available to discuss your candidacy.  You want to give your contact information to make it quick and easy for them to contact you.
Some writers find it easier to start with the body and write the introduction and the conclusion.  There's nothing wrong with that approach. They should tie in together, but other than that, the body is what will drive the one or two sentences summarizing your candidacy.
As you write the main part of your letter, look through your list of requirements and your goals and aspirations.  Consider what in that list shows what you are capable of, why you want to attend that program, and why you can succeed.
Perhaps this is a past project, company, or area you have run.  Maybe it's your dreams and aspirations.  You want to look through your list and consider what is there shows the brightest future and your capability.  You don't need to include grades or study, as everyone has that.  While being honest, you want to show how you are capable of the work and can add to the value of the school.  While it's wonderful if you have cured cancer at the age of 22, that isn't necessary.  Showing that you can work hard, take responsibility, learn, and achieve are often enough.
"During college, I worked at a local grocery store to help pay for tuition.  I was promoted to a departmental manager where I helped with ordering, managing my shift, and answering customers' concerns.  I learned a lot about the elements of the business.  I learned the challenges and opportunities of building and managing a team and the importance of maintaining appropriate stock without having too much on hand.

My goal is to run my own business someday.  I am a very creative person and would like to be able to produce and sell products that I have designed.  I know this won't be an easy path, but I am confident that my undergraduate work in industrial engineering combined with the education of an excellent business school such as yours will help.  I am particularly interested in the track that you offer on entrepreneurship."
Sometimes, simple lessons like these, in addition to your academic work, are enough to show that you can work hard and understand what the program will teach you.
The body of your letter should be 1-3 paragraphs outlining your successes, experiences, and aspirations.  It may have all or some of these.  This will be different for each person and each program.  Your goal is to tell a compelling story you can back up with your CV/resume, academic record, and references.
You should keep your letter to one page.  Most readers won't go past that anyway, so you want to keep the important information on one page.
Reviewing Your Motivation Letter
Before you send your motivation letter, make sure that you review it.  You are writing to an academic institution, and part of what they will be looking for is that you can clearly and accurately communicate.  Spelling and grammatical errors can actually hurt your candidacy rather than help it.  Here are the minimum things that you want to check it for.
Correct Spelling – In this day and age, you should largely be able to avoid any spelling errors just by using the spell checker available in Microsoft Word and Google Docs or almost any other editor.  We all know these aren't perfect but they should at least cover the large errors.
Proper Grammar – Grammar is important too.  This is a graduate program, and you need to demonstrate that you are capable of graduate-level work.  A great resource for grammar and spelling is Grammarly.  They have a free version that works with most major applications (including Word, Google Docs, and your web browser), and it lets you know about spelling issues and major grammatical mistakes.  It's also great about picking out homonyms (words that sound the same like "too" versus "to").  Most of these letters will be in English. If English is a second language, you might want to invest in their paid version, which is more robust and can help you with things like readability and tone.
Proper Formatting – Most of us don't write letters much. You might send this as an e-mail, but it may also go as a formal letter.  Our sample and our template can help you with proper formatting for a letter.  If you are sending it as an email, remove the address block and date; otherwise, you can use the same letter.
Other Resources for Writing Your Motivation Letter
We have designed this guide to help you write your own letter.  For many, this works great.  Sometimes, an applicant needs more help. Unfortunately, we don't have the resources to help you write your own letter.  We want to offer you some options, though.  There are people out there who will write a motivation letter for you.  Of course,  you'll still need to do the first step of getting your information together.  They'll need to know something about you.
One easy resource is our Editable Template for Motivation Letter for MBA Program.  This is a downloaded, editable version of our sample motivation letter for MBA.  It provides a great starting point and can help you get started quickly and cheaply.  Sometimes, you may need more, though.
The best resource we have found for such help is looking on Fiverr to hire someone.  Fiverr is a marketplace where you can hire someone for a specific project.  They offer different projects at set prices that you can hire them for.  This link will take you to a search for freelancers that do motivation letters specifically.  We can't offer any specific names on there because the freelancers change.  We can give you some pointers on finding the right person for you, though.  You can find more Fiverr resources here that can help you get started.
Make sure to review their projects and their reviews. Some might offer letters specifically for MBAs or education applications. Others might do motivation letters.  That's probably okay.  If you're not sure, you can contact them and discuss it with them before hiring them.  Here are the things to look for if you contact them (which isn't a bad idea even if you think they're great).
Responsive – Make sure that they respond in a reasonable amount of time.  If they don't respond quickly when they want your business, they won't be quick when they have it.
Communication – You're asking them to write a letter for you to a graduate program.  Asking them questions in writing is a good chance to see the quality of their writing.
Check All Their Deals –  When you look at their offerings, there are usually multiple tiers of offerings. Pay more, get more, or get it more quickly (or both.)  Don't always go for the cheapest.  Sometimes, the more expensive deals can help you more.
Read Their Reviews – Read through the reviews and look for patterns.  Anyone can have an occasional bad review but if you need a letter in a few days and they have a lot of complaints about timing, they probably aren't the freelancer for you.
The good news is that these writers do this a lot and have seen a number of ways to do it.  Often Fiverr offers reasonable deals at reasonable prices for projects like this.  Just like anything else, you need to make sure you hire the person for you.
While we can't recommend a specific freelancer, please leave a review, especially if you find someone really good or bad.  That way, other readers can find the right freelancer when needed.  If we all leave reviews, we can find the best people together to help us.
Good Luck
Good luck with your MBA application.  We hope this has helped.  Please let us know how it goes and if there's anything we can do to make this better!
Sample Motivation Letter for Your MBA Application
Below, we have a sample motivation letter.  This is intended to help you get started.  We've tried to lay out the easiest way we know for you to write your own letter, using this as a guide.  Of course, this isn't the only way to write a motivation letter for an MBA program, but this way should help you write your own the most effective and quickest way.  Probably the hardest part is getting started.  You can download an editable version of this letter here.