There are various national and international universities that are nowadays asking for the motivation letter for Masters from candidates who are applying for any master's degree program. Many people thought that what is the need of a motivation letter but what do you know that a single motivation letter can be proved as a decisive factor for the selection criteria in your desired master's program.
With this motivation letter, the recruiting committee gives you a chance for proving yourself in this document. That's why you should be given a chance. And how you are different from other applicants. All that is not very difficult to write a motivation letter but still it is not very simple to write one as there are some factors which you should keep in your mind while writing a perfect motivation letter.
It is necessary to provide handwritten good quality and errorless letters to the admission authority. Today in this article we are going to tell you about some aspects related to the motivation letter for your Master's program. You will also go to get free templates of the motivation letter in this article which you can download and utilize for your personal or professional use.
Format of Motivation Letter for Masters
Points to remember while writing motivation letter
There are few things which you should kept in your mind before starting writing. You should gather good information source about the university for which you are going to apply about the desired program and your own dreams and goals. These all will help you in writing a good motivation letter for yourself. Below we are going to provide some points that will help you in writing a well written motivation letter for Masters.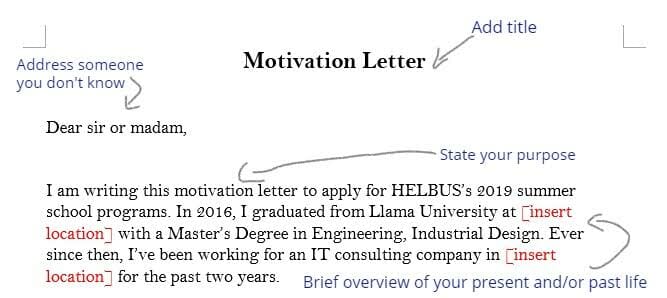 How to write a motivation letter for master
Be personal and original
As an individual, you should provide some insights about yourself for your reader as it is a personal document you should remember that what you want to tell about yourself and wants the reader to understand about you. For this you can go forward by mentioning your skills, qualities, and qualification that makes you the right candidate for the applied Master's program.
Be professional and consistent
If you are sending a letter to higher authorities is needed. That it should be professional and consistent motivation letter should look like an organized and structured one within a paragraph, accurate font size and an adequate length of the letter. You should always remember that the first impression is the last impression so be productive with your introduction part. After completing your letter you should always check it for any mistakes and correct them if found.
Get proper guidance and assistance
If you feel that you need to get some Idea or want to us something with your teacher friend anyone tell. It will be good to take advice from them. This will bring variety to your mind and help you in writing a good letter with concise words and information. You can also take help from this device are already studying in the Masters's program in the same University for which you are applying.
Sample Motivation Letter for Masters
Conclusion,
So these words few things which you can keep in mind before starting your motivation letter. This will guide you assist you and help you in writing a perfect one with professional touch. We hope that after reading this article you have gathered an adequate amount of information about the motivation letter. Also you can go through the template we are providing here. This will also help you in getting some idea. We are sure that you will not face any kind of difficulty while writing a letter for yourself. But still by any case if occur you can simply contact us by commenting below our team will help you as soon as possible.